Praise the Lord!
It is a joy to worship with you today, church! The Lord, in His providence and grace, has brought us together as a body – the Lord is with us and He loves to hear you sing! Lift your voices to Him today as we celebrate the great hope of the Resurrection, just as loudly as we did last week on Easter.
Welcome and Call to Worship:
SPECIAL GREETING TIME –> Click on the following link to say hi to the pastors from 11:00-11:30 am this Sunday!
Parents: take some time to review New City Catechism question #2 with your kids! Grab your book and ask them.
Q: What is God?
A: God is the creator and sustainer of everyone and everything.
Call To Worship
Psalm 118:28-29
28 You are my God, and I will give thanks to you;
    you are my God; I will extol you.
29 Oh give thanks to the Lord, for he is good;
    for his steadfast love endures forever!
Worship Through Song:
His Mercy is More – Matt Boswell, Matt Papa; #7065053
King of Kings – Brooke Ligertwood, Jason Ingram, Scott Ligertwood; #7127647
Raised to Life – Chris Brown, Mack Brock, Matt Redman, Steven Furtick; #7011534
Worship Through Giving:
**If you prefer to write a physical check, please hold on to that check until we can get together again in person. Thanks for your generosity!**
Worship Through the Reading of God's Word:
Come to Me, and I Will Give You Rest
25 At that time Jesus declared, "I thank you, Father, Lord of heaven and earth, that you have hidden these things from the wise and understanding and revealed them to little children; 26 yes, Father, for such was your gracious will. 27 All things have been handed over to me by my Father, and no one knows the Son except the Father, and no one knows the Father except the Son and anyone to whom the Son chooses to reveal him. 28 Come to me, all who labor and are heavy laden, and I will give you rest. 29 Take my yoke upon you, and learn from me, for I am gentle and lowly in heart, and you will find rest for your souls. 30 For my yoke is easy, and my burden is light."
Worship Through the Preaching of God's Word:
Worship Through Prayer:
Pray this with us:
"11 In him we have obtained an inheritance, having been predestined according to the purpose of him who works all things according to the counsel of his will, 12 so that we who were the first to hope in Christ might be to the praise of his glory. 13 In him you also, when you heard the word of truth, the gospel of your salvation, and believed in him, were sealed with the promised Holy Spirit, 14 who is the guarantee of our inheritance until we acquire possession of it, to the praise of his glory." – Ephesians 1:11-14
Lord of heaven and earth, almighty God, we praise you for who you are. You are loving, gracious, and merciful to us who are so undeserving. In your matchless grace, you have granted us, the Prodigal Sons and Daughters, an inheritance in your Son, Jesus. In your all-knowing, all-powerful nature, you have declared that we would be your people, and you would be our God. And in your goodness, you have done this so that you might work all things together for the good of those who love you. Such was your will, and such is your grace.
We live as people who have hope in the face of both life and death, to the praise of your glory. By the glorious resurrection of your Son Jesus Christ, you have destroyed death and brought life to your children. Grant, Lord, that "we who have been raised with him, may abide in his presence and rejoice in the hope of eternal glory."
You have so graciously spoken your word of truth through your Word of Truth, so that the "gospel of your salvation" might soften our hard hearts and open our closed eyes. You have hidden these things from the wise and understanding but revealed it to those who have faith. Lord, we believe; help our unbelief!
We praise you for the gift of your Holy Spirit, so that "God with us" becomes an even deeper reality for we your people. We are sealed by your Spirit as we await the day when we fully acquire the inheritance you so graciously granted to us. Give us strength and perseverance until then, as we already experience it in part, but have not yet fully until you return.
Praise the Father! Praise the Son! Praise the Spirit! Three in One. To the praise of your glory, we ask these things in Christ's name. Amen.
In Closing:
We love you! It is always encouraging to be together on Sundays, and we pray that it is just as encouraging online.
We pray that you hold on to this truth: even when it doesn't feel like it, Jesus is made non-ignorable when:
You worship passionately at home
You connect with your family and neighbors authentically
You grow to know God deeply from your home,
You go, show and tell the gospel boldly to your neighbors in word and deed.
These are marks of our church; they don't change just because we are online. And praise God for that!
In closing, we leave you with a devotional thought from Pastor Aaron* that is related to our sermon passage from today.
Take a look at the following image, The Trinity, an icon painted by Russian Orthodox painter Andrei Rublev in the 15th century.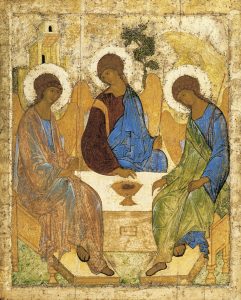 This painting depicts the story from Genesis 18 of three angels visiting Abraham, but it is loaded with more symbolism that just that story. In brief, it is an artistic depiction of the Trinity: the Father is on the left, the Son in the middle, and the Holy Spirit on the right. Many things tell us this: the Son and the Spirit bow their heads slightly towards the Father, "the Lord of heaven and earth" (Matthew 11:25), and yet they are all on the same platform, meaning they are "co-equal" as we discussed in the message today; the Son is wrapped in robes of red and blue, traditionally used to indicate His being God (blue) and human (red), and the tree over the shoulder of the Son represents His death on the Cross (the Tree); and the Holy Spirit is in green, the color of new life, and is pointing down on the table, showing us the gift of God in the Spirit descending to Earth at Pentecost.
While these are all great theological claims to explore, the most important one for you and I today is the table that they are seated at. There are four sides, three of which are taken. The remaining side is open to you, the viewer, with a cup waiting for you. What this image is telling us is the truth of the gospel: God invites you to come and rest in fellowship with Him. To hear his invitation of "Come to me, all who are weary and heavy laden" is to walk toward the fourth side of the table, to have your burden of sin and labor removed, and to rest in fellowship with God the Father, Son, and Spirit. It is an invitation into new life in the Trinity.
When we see the open side of the table and we answer our invitation, we begin the scriptural journey where "if anyone is in Christ, he is a new creation. The old has passed away; behold, the new has come" (2 Cor. 5:17). When we sing, pray, read scripture, and join together (gathered or scattered), we are participating in this new life in the Trinity. When we recline at the table with God and take the cup, we do so and "proclaim the Lord's death until he comes" (1 Cor. 11:26) and we once more sit at the table on the fourth side.
So come, you who are weary, and you who are tired, and you who are heavy laden – rest in the love of God for you and join in fellowship with Him.
*Aaron owes this devotional thought to Dr. Megan DeVore, the greatest professor he ever had.